I thought
the cold open with the Trump impersonator
was very entertaining. I even liked
Miley Cyrus singing "My Way"
as the monologue. But
Hillary did fine
. Of course, the show loves her and exalted her as much as they could get away with... or more... that shoe stuff in the end was embarrassing. But Hillary herself looked good — maybe she should dress like a bartender all the time — and she showed some comic spark.
ADDED: By the way, when did it become a thing for women to wear flesh-colored shoes? Is it related to that awful trend of ice skaters wearing flesh-colored tights that come down over the skates?
"Exhibit A: Sarah Hughes, 2002 Olympic Gold Medalist":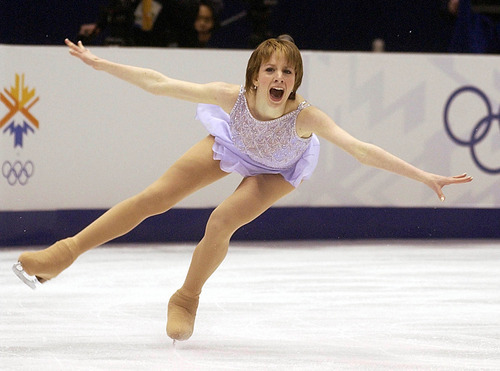 Notice that in the first GOP debate, Carly Fiorina was wearing those seemingly ubiquitous flesh-tone shoes:
It's like they're saying: Don't consider me to be wearing shoes at all. Just think of my feet as an inconspicuous continuation of my legs.
In the second debate, however, she upgraded to shoes that were
shoes!